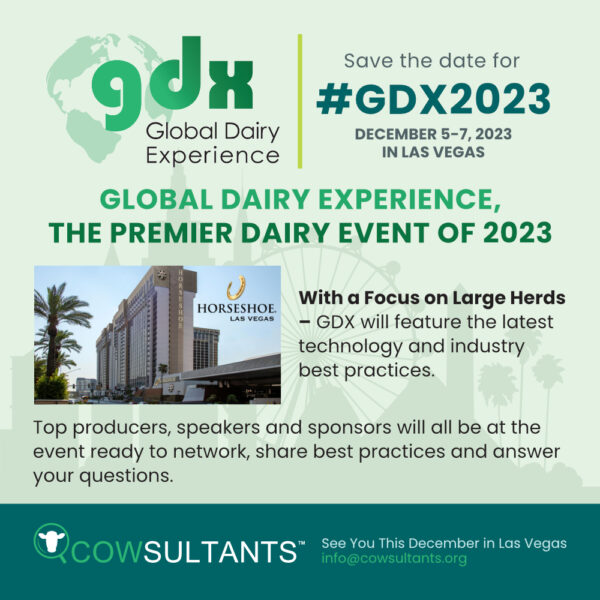 The Global Dairy Experience
Some of the largest dairies and their advisors will be represented at this Experience. Top companies will be presenting critical information to help support producers and their farms. New products, research, and more will be the focus topics of the sessions. This will combine the academic world, manufacturers and producers so that the guest can hear first hand what's coming next for the industry and have an opportunity to network during and after the Experience.
These educational seminars will give those attending an opportunity to visit with their peers while learning from experts about the different methods to make your operation more efficient and profitable.
Mission 
The Global Dairy Experience provides an opportunity for dairy producers to meet with companies, academics, and their peers to network and share with one another best practices and farm management techniques.
About the Experience
Annual event in Las Vegas

Summer event to rotate locations

Focus on the dairy owners and networking opportunities

Top innovative companies attend and sponsor

New market ideas to provide ways to save and make the operation more efficient and profitable

Strengthen relationships with other producers and vendors

Leadership development - top speakers and panel guests

Local farm tours - depending on venue location

Recruitment for those looking for new opportunities

Open evenings to allow for everyone to network, get together for dinner and more

A comfortable environment to network with peers
In 2019, we saw a gap in the dairy industry. Farms were unable to find the products they needed to add efficiency and improve herd health. On the flip side, we saw companies with amazing products that could not get them into the parlors of the nation's largest dairy farms. We decided to bridge that gap by bringing together the industry's best products and the farms that needed them, and Cowsultants was born. Cowsultants now hosts #GDX or The Global Dairy Experience to bring together one of the best networking sessions in the dairy industry with the annual event held each December in Las Vegas.