Agriculture Advocate
Stephanie Nash is a fourth generation dairy farmer from Tennessee. Her family originated out of central California but in 2013 decided to move their dairy to Tennessee because of regulations, drought and hardships facing California agriculture. Stephanie joined the TPUSA ambassador program two years ago in hopes to bring more agriculture awareness to the organization. She has exposed Washington DC leadership and continues to fight against the green new deal. She believes that family farmers and ranchers are the backbone of this country and we must protect our land and water rights. Stephanie has created a large platform for her advocacy and continues to educate Americans on how we can sustain our food supply. Stephanie has been on major platforms including Tucker Carlson, Fox Nation, Newsmax, Tomi Lahren and many other national news channels. She has also been featured in Fox News digital and PBS Emmy nominated documentaries. Stephanie not only speaks for her family Dairy Farm but advocates for family farmers and ranchers through her YouTube series "the life of a farmer". Stephanie is a true American patriot, fighting for our food security and the future of American Grown here in the United States.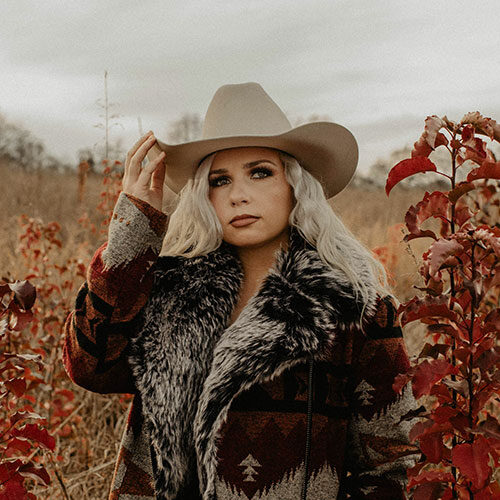 Stephanie Nash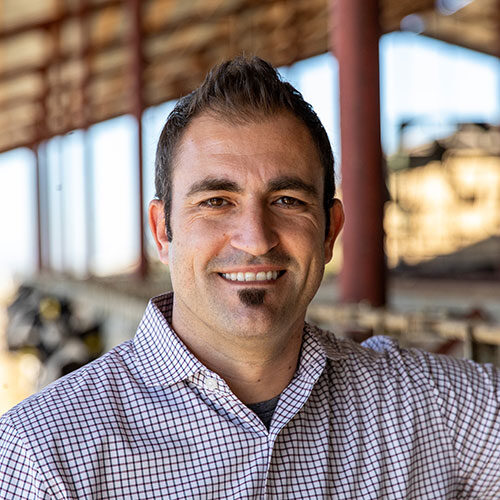 Ryan Calistro
The Dairy Solutions Group
President
Ryan Calistro has over 20 years in the Dairy Equipment Service industry. He has a unique perspective on starting as an installer, moving on to service, and eventually sales. He took over the family business Modesto Dairy Solutions in the Northern California market and eventually expanded to Arizona. He later joined the TDS group, which allowed expansion into Idaho's Magic Valley. Recently acquired by Standard Nutrition, Ryan is now the President of The Dairy Solutions Group, which services customers in CA, AZ, and ID. The group has installed 20-plus rotaries and 70-plus robots in the last few years and is now focused on Operational Excellence in service as they adapt to the needs of the industry.
TDSG
Torie grew up in Southern Idaho, working for her dad's custom chopping business which introduced her to the industry at a very early age.
After college she worked for a boutique nutritionist company, gaining valuable experience of all aspects of daily operations on large herds. With this knowledge and high level of drive she moved on to become operations manager of several large farms in Idaho and New Mexico.
Today she enjoys finding progressive solutions for large herds emphasizing practical application, integrity and customer first mentality.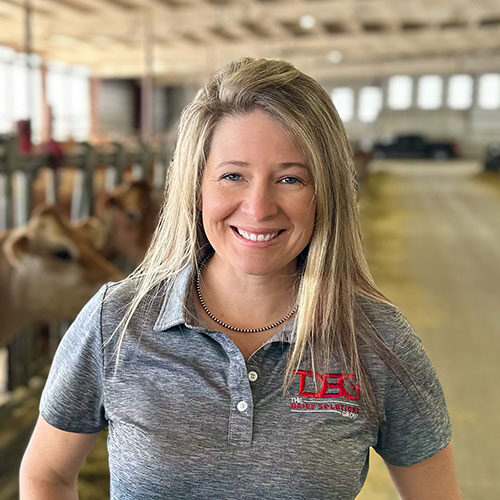 Torie Little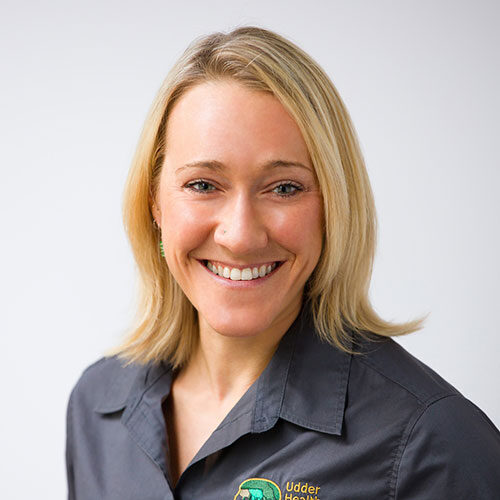 Dr. Justine Britten
Udder Health Systems
Dr. Justine Britten grew up immersed in the dairy industry and in milk quality as the daughter of
Dr. Allan Britten, founder of Udder Health Systems. She is currently the Lab Director for Udder
Health Systems, overseeing all four lab locations and providing technical consulting services to
dairy producers and veterinarians across the country. She obtained a B.S. in Animal Science
from Washington State University and a PhD from Utah State University, focusing on alternative
therapies and management solutions for chronic mastitis quarters and dry-off treatments. She
also serves on the Board of Directors for the National Mastitis Council (NMC) as 2 nd Vice
President.
As leader of the Udder Health Systems team, Justine has a vision of serving a proactive role as
an external member of a dairy farm's team, by anticipating and helping dairy producers with
their mastitis management needs.
Breedr
Ian is Founder and CEO of Breedr, a beef technology and supply chain company, supporting Ranchers, Feeders and Packers across the US and Europe to build and develop virtual supply chains, improving quality. Ian has a passion for how supply chains and data can help improve quality and returns in the beef supply chain.
With a background in agriculture from Australia, global supply chains and technology as well as MBA from London Business and now living in Texas with his family, he brings a unique but practical approach to supporting producers with technological change.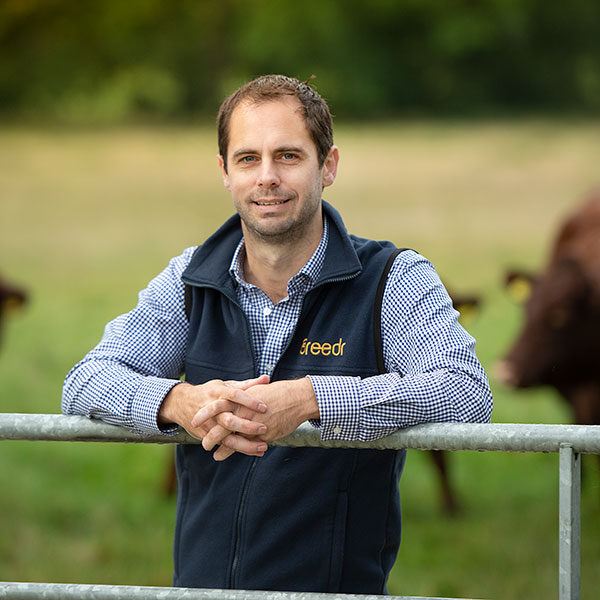 Ian Wheal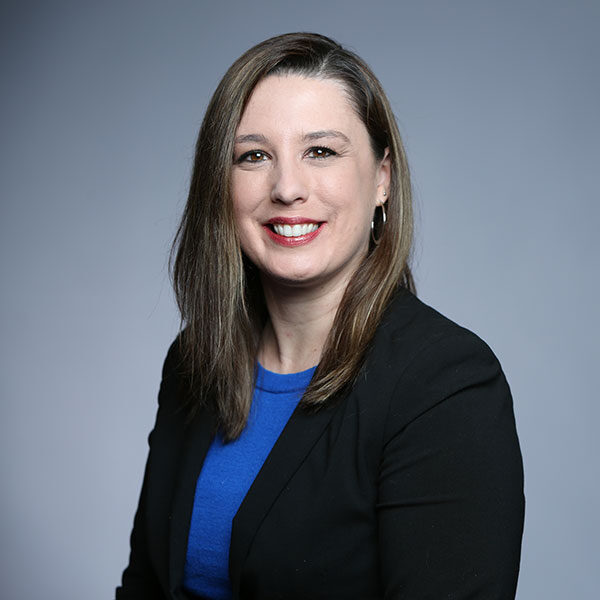 Jennifer Peal
US Food and Consumer Agribusiness Group
Vice President, Relationship Manager, Agricultural Banking
BMO Commercial Bank - Watertown, WI
As an agricultural banking officer for BMO Commercial Bank - Watertown, Jennifer Peal manages a portfolio of diverse production agricultural and agribusiness related customers with a focus on dairy farms. In addition to having grown up on a dairy farm, Peal is a graduate of UW-Whitewater's Business Management program and has over 20 years of banking experience. She's active in her community, serving on the Watertown Agribusiness Club Dairy Breakfast planning committee and has served as an Ambassador to the Watertown Area Chamber of Commerce as well as mentoring the youth in Agriculture.
ABS Global
Senior Director, Global Beef Sustainability and Product Development
De Forest, Wisconsin, USA
Dr. Matthew Cleveland, a geneticist by training, is passionate about using technology and innovation to create a more sustainable food supply. He leads Beef Sustainability and Product Development at ABS Global, a Genus plc company, a world leader in animal genetic improvement. Matthew is responsible for ABS' overall beef sustainability strategy and, sitting at the interface between science-driven R&D and a customer-focused sales organization, he and his team develop novel products and deliver more profitable and sustainable beef genetics to beef and dairy customers around the world. Matthew has a Ph.D. from Colorado State University, an MBA from the University of Wisconsin, and 17 years in the Genus business working in both PIC and ABS. He currently resides in Wisconsin with his wife Susan and three children.
Matthew A. Cleveland, Ph.D., MBA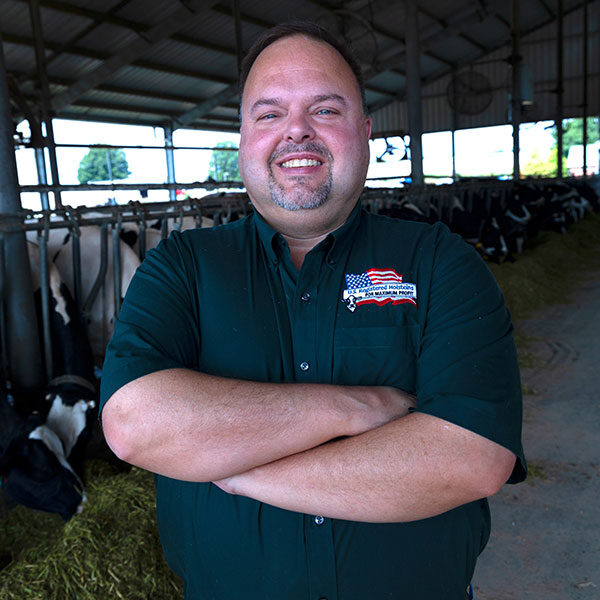 Jeffrey Bewley, PhD
Holstein Association USA
Dairy Analytics and Innovation Scientist
Dr. Jeffrey Bewley is from Rineyville, Kentucky where he grew up working on his grandfather's dairy farm. He received a B.S. in Animal Sciences from the University of Kentucky in 1998. In 2000, he completed his M.S. in Dairy Science at the University of Wisconsin-Madison under the direction of Dr. Roger Palmer with a focus on dairy modernization. His PhD work under Dr. Mike Schutz at Purdue University focused on the application and economics of Precision Dairy Farming technologies. For 9.5 years, Jeffrey was on the faculty at the University of Kentucky as an Extension Dairy Specialist. He has also worked with IceRobotics, PerforMix Nutrition, BoviSync, and Alltech. Dr. Bewley is currently Dairy Analytics and Innovation Scientist with Holstein Association USA.
Jeffrey's professional interests include Precision Dairy Monitoring Technologies, Dairy Records Management and Analytics, Dairy Cattle Genetics and Genomics, Economic Decision Support, Animal Health Economics, Compost Bedded Pack Barn Management and Construction, Freestall Barn Management and Construction, Mastitis Management and Prevention, and Dairy Farm Financial Analysis.  Jeffrey Bewley received the American Dairy Science Association Foundation Scholar Award in Production and American Dairy Science Association Cargill Animal Nutrition Young Scientist Awards in 2015. He was named to the Vance Publishing 40 Under 40 for Agriculture Award in 2014. He has published and presented extensively around the world. He is an active member of the International Committee for Animal Recording, the National Mastitis Council, and the American Dairy Science Association.  Dr. Bewley is also a certified CowSignals trainer, a MEX udder health coach, and a Lean Farming trainer. Jeffrey pursues his passion for dairy cattle genetics as a partner in IceBlue Genetics and Fit Genetics. He serves on the advisory boards of multiple dairy technology companies.
Neogen
Key Accounts Manager
Nick is the Key Accounts Manager for NEOGEN's Livestock Production Division serving the largest beef and dairy operations in the country. Nick makes his home along with his wife Rebekah and daughter Lauren in Ashland, MO. Their son Cole is studying Plant Science at the University of Nebraska-Lincoln. Nick obtained his undergraduate degree in Animal Science at the University of Missouri and then obtained a Master's degree from Colorado State University in Beef Cattle Management and completed his thesis on Full Service Genetic Provision including developing a customizable selection index.
Nick spent the majority of his professional career working for Circle A Angus, a 8,000 head seedstock and commercial operation. His role as Marketing Manager included sales, customer service, data management, and marketing. Nick thoroughly enjoys assisting producers in making objective management decisions that lead to greater profitability and sustainability.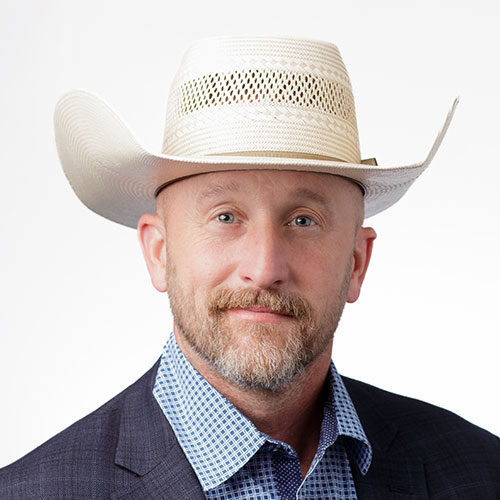 Nick Hammett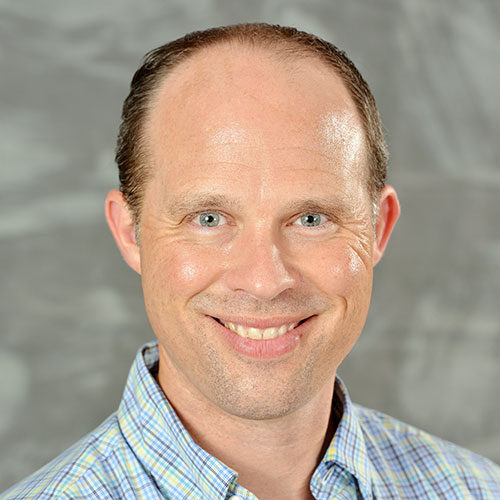 Nathan Maxwell
CISSP
With a rich 25 year history in the Cyber and Information Technology industry, Nathan Maxwell is a seasoned professional dedicated to navigating the complexities of digital security. He founded Communication Concepts, Inc. to help organizations utilize technology in a safe and productive manner. Beyond the world of firewalls, encryption and compliance, he is passionate about assisting companies in reducing risk.
Nathan is a family man, proudly calling Kansas City home. He and his wife Melanie have been happily married for over 20 years. With six kids in tow, he is woefully aware of his inadequate retinue of dad jokes.
American AgCredit
Brian Larson is a Relationship Manager with American AgCredit based in Greeley, CO. American AgCredit is a proud member of the Farm Credit System, created more than 100 years ago with the sole purpose of serving the financial needs of farmers and ranchers. We are truly "built for agriculture". We provide loans and other financial services to agricultural and rural customers throughout California, Colorado, Hawaii, Kansas, New Mexico, Nevada, and Oklahoma, as well as to capital markets customers in all 50 states.
Brian has been involved in the dairy business his entire career. His initial experience was working on his family's dairy in California, and for the past 15+ years with American AgCredit financing dairies in the Midwest and Western United States.  American AgCredit's dairy team consists of 8 Relationship Managers that manage approximately $3 billion of loan commitments to dairy producers.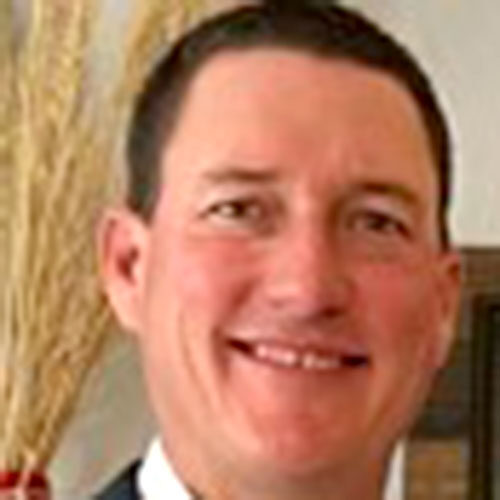 Brian Larson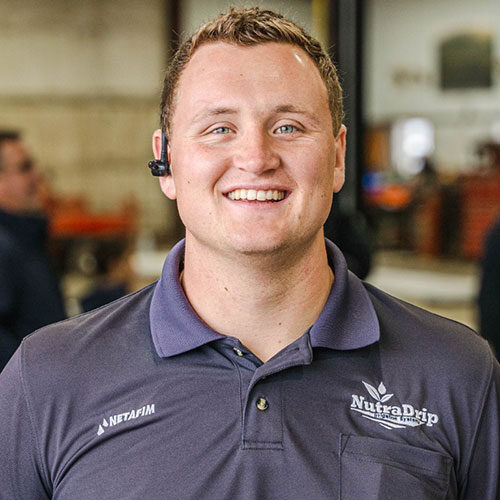 Taylor Zeltwanger
NutraDrip
Water and Nutrient Management
Taylor Zeltwanger lives in West Central Minnesota and has always been passionately involved in agriculture. He values Faith, Family, and the challenge of the agriculture industry. While attending South Dakota State University he began to work for Nutradrip, and upon graduating, received a degree in Agriculture Systems Technology. Currently, Taylor manages the Upper Midwest Territory while adding value to many different operations located throughout Minnesota and the Dakota's. He has been instrumental in working and developing solutions for wastewater management on large livestock operations. His focus is to provide solutions through drip irrigation technology that help growers produce more and use less, all while lowering the cost of production.
Netafim
Manure, Irrigation, and Agronomy for Large Dairies at NutraDrip Irrigation Systems
Kurt is the COO at Grimm's Gardens and the Manure, Irrigation, and Agronomy for Large Dairies at NutraDrip Irrigation Systems. Design, sales and installation of subsurface drip irrigation systems that allow farmers to irrigate and fertilize crops with the most efficient technology available.
Kurt, one of our founders, grew up around his family's hydroponic farm and was intrigued with the amount of control a hydroponic system offered a grower. While the family business shifted from tomatoes to a full nursery and landscape operation, that intrigue never left him.
Flash forward several years to 2012. A drought had hit northeast Kansas and Kurt and his brothers were farming an odd-shaped field that needed water. The typical pivot irrigation system wouldn't work and they began looking into other options. The brothers' experience in the landscape and nursery business had familiarized them with drip irrigation. So they gave it a shot, installing drip irrigation in the field themselves. It was then that the light bulb went off. Drip irrigation reminded Kurt of the hydroponic system he had grown tomatoes in as a kid. Both systems offered total control to the grower, not just in the amount of water a person could apply but also what could be added to that water for the health of the plant.
This level of control, of integrating a plant's water and nutrient needs together in a subsurface drip irrigation system, had been around for several years in the vegetable and greenhouse industries. Finding a subsurface drip irrigation system (SDI) that would work for corn or soybean fields was difficult.
Just as they had to install that first field themselves, the brothers decided to create a company that would install SDI systems for other growers: NutraDrip.
Today, NutraDrip is located not far from where those first hydroponic tomatoes were grown. We are continually pursuing innovation and exploring all the ways that a subsurface drip irrigation system can be utilized for maximum results.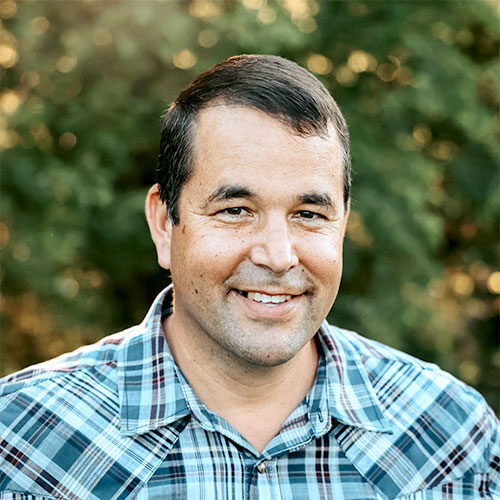 Kurt Grimm